July 4, 2010 at 1:56 pm
#47857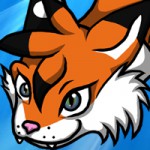 Kat Aclysm
Keymaster
Sephiroth glanced down at the egg, unsure of what to do with it. Should he attempt to help the infants pry the shell off their eggs? He shrugged, pondering Seferia probably wouldn't appreciate that very much. He crouched down beside the first egg and tapped on the top of the shell.
He was dissapointed when the tiny black and gold snout retreated into the egg.
"This one doesn't want to hatch." He said slowly, then resumed drumming on the surface of the egg with his fingers.