July 2, 2010 at 2:44 am
#47795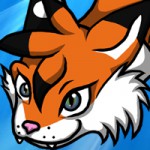 Kat Aclysm
Keymaster
Sephiroth walked back to the tent, still very much wet from his splashing at the river. He kept his ears down and back as he helped to dismantle the tent for storage. It didn't take him very long at all because he was so used to doing it by now.
Within minutes he had the support beams packed away and ripped the tent pegs out of the ground.
"It is done." He said simply, once it was all away.