August 17, 2010 at 5:21 pm
#15106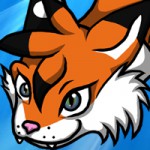 Kat Aclysm
Keymaster
Sephiroth was thoroughly irritated by the time Seferia and Noemi had returned. Although he had been using the programs inside of his head geared at his level of cognative ability for chess, he was still getting beaten by this smart-ass child from the middle of nowhere.
Rhyderi looked rather pleased with himself. Not only had he proven his intelligence to this dumb older male, he had proven that good tactics could come from an unlikely source. Though he also began to wonder to himself if the dumb-dumb was letting him win. Judging by his current expression… probably not.
Kalysto just sat near his brother and watched, silent. At least he wasn't screaming his head off any more.
"Ah, you're back." Sephiroth grunted at Noemi. "Just in time." He shoved the chess board, up-ending the game entirely. "We have busy things to do now. I've no more time for this stupid game. Three more moves and I would have won anyway."
Rhyderi yelped as pieces hit him in the face. "HEY!!" He glared. "You liar! You were not going to win, I was! You're just sore because you were losing!"