July 20, 2010 at 4:39 am
#15098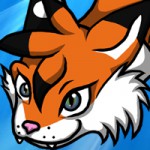 Kat Aclysm
Keymaster
Sephiroth didn't know what to do with them, really. He just glared at the children, having decided almost instantly that he didn't want them in his quarters. When Seferia asked him about the problem he had called her over for, he turned to Noemi and nodded at her.
"I told you on the telepathic signal, and I told you just now." He snorted, feeling frustrated at having to repeat himself. "And here she is."
Kalysto stared up at the 'monster' dragon coming towards him and flicked his ears down, tensing, curling up into a ball where he was.